Annual Crop Producers Meeting 2016 – Recordings streaming now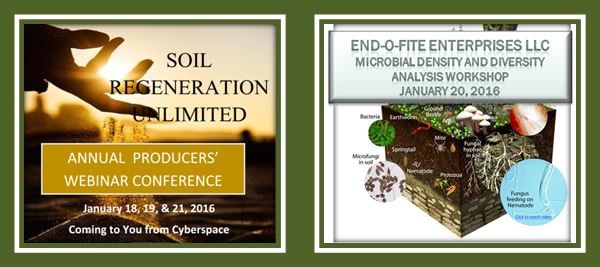 MISSED THE CONFERENCE?
RECORDED PLAYBACKS BELOW
We were pleased to cooperate with Jim Martindale of Soil Regeneration Unlimited to offer this virtual conference in January, 2016. Listen to renowned scientists, leading crop consultants, and cutting edge crop producers explain why some of the most widely adopted biotech innovations have failed to create the higher yields, increased profits, or healthier crops and soils they claim to support. Explore new insights that are empowering growers to assess and restore soil health, build sustainable farms, and harvest more nutritious crops.
All Sessions are free to view – just click on the "Blue Highlighted" links below.
Featured Sessions
1. Making the Most of Cover Cropping
with Andrew Ambriole, Bio-Steward Farms, Roanoke, IN
and Dave Chance, Chance Farms, Lebanon, IN
Hosted by Jim Martindale, Soil Regeneration Unlimited, Ossian, IN
2. Tillage that Improves Soil Health…What???
by Jim Martindale, Soil Regeneration Unlimited, Ossian, IN
All Sessions
1. Monday Morning Session: Live Playback
Speakers listed in order include:
Frank Dean, Product Development Specialist, Lido Chem, "Setting the Table"
Mary Lucero, Systems Biologist, End-O-Fite Enterprises LLC, "Microbiomes and the Business of Food Security"
Don Huber, Professor Emeritus, Purdue, Bioenineering: Failed Promises, Flawed Science: An Unsustainable Strategy for the 21st Century
Anthony Samsel, Independent Scientist, Glyphosate (Roundup): the "Nontoxic" Chemical that is Destroying our Health
Stephanie Senneff, Glyphosate and Climate Change, Senior Research Scientist, MIT
Followed by Round Table Discussion and Open Forum
2. Tuesday Morning Session Live Playback
Speakers listed in order include:
AGROCHEMICALS IN THE FOOD CHAIN
Monica Krüger, Veterinary Faculty, University of Leipzig, as interpreted by Jim Martindale, Mary Lucero, and Frank Dean, "Reasons of Interest in Glyphosate Activity in Dairy Cow Farms" (Note: Due to some last minute interruptions, Dr. Monica Kruger, University of Leipzig, could not join this session. In the live recording, you will hear conference participants interpret the slide show she offered, and attempt to fill in the blanks on the fly. With all due respect, this could be what gets labeled be our "bloopers" session. It did provide some great opportunity for all of us to think beyond our comfort zones, and we hope we did no disservice to Dr. Kruger's research.)
MICROBIALS OR PROBIOTICS IN NUTRITION
Frank Dean, Mary Lucero, Jim Martindale, "Microbials in Nutrition"
SOIL, PLANT, and MICROBIAL TESTING
Bob Streit, Iowa Consulting Agronomist, "Our Main Midwest Crops are still dying early, Causes, Treatments, and Solutions"
Bob Perry, Perry Agricultural Laboratory, Inc., "What's Old is New Again, Albrecht and Soil Health"
Bob Schindelbeck, Extension Associate, Cornell Soil Health Lab, "Soil Health Principles-Understanding the Soil from Lab Testing to Field/Farm Management
Mary Lucero, Systems Biologist, Systems Biologist, End-O-Fite Enterprises LLC, "Monitoring Soil Microbes to Foster Crop Nutrition"
Michelle Gregg, Executive Director, Crop Health Laboratories, "Plant Sap Analysis, Enhancing efficiency and profitability"
3. Wednesday Morning Special Session (Microbial Density and Diversity Analysis Workshop) Live Playback www.anymeeting.com/233-134-147/E952DE84854730
4. Thursday Morning Session Live Playback
Part 1 – MAKING THE MOST OF ANIMAL WASTE
Nutrient Boom Trials for Liquid Fertilizer Applications in Corn-Doug Young, Spruce Haven Farms.
Manures and Creating Value From Them-Jim Martindale, Soil Regeneration Unlimited. This was originally presented with Al Jasper.
Part 2 – FERTILIZATION FOR SECURING THE CROP
1-Jerry Carlson, Renewable Farming LLC, Cedar Falls, IA, "12 Foliar Feeding Ideas for Higher Yields"
2-Jeremy Schulz and Ray McDonald, Innovative Surface Solutions, "Better Magnesium, Better Plant Nutrition"
3- Frank Dean-"Prudent 44, Patented Concentrated Phosphite Fertilizer Solution"
4-Closing Remarks from audience and from Jim Martindale, Suzanne Ricketts, Mary Lucero
---
Dear Friends of Curse Buster,
We are actively seeking a partnership with a US or Canada based company to play the major role in manufacturing the CurseBuster product line. Please pray for us that we may find a builder that shares our vision for tillage to be done God's way. Thank you.
At this point, Carl Brubacher and myself are responsible for all sales and support activities.
Our parts inventory is currently stored in North Dakota.
Here are the ways of getting in touch with us all:
Daniel and Jim phone 260-918-0481. Hours for this phone are 9am to 10pm EST. Cell phone number for Jim is 260-706-3133.
And for email contact use the same as in the past. For Jim either genesis.eight21jim@gmail.com or jim@soilcursebuster.com. Carl's email is carl@soilcursebuster.com. For Daniel email is dan.martindale@soilcursebuster.com
Thank you all for your continued interest and support, and most especially your prayers.
Jim, Carl, and Dan